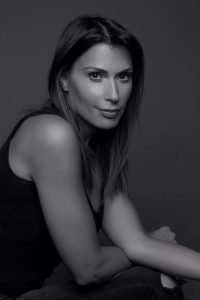 How and when did your career in the modeling industry first begin?
My modelling career began at the age of 17 when my next door neighbour who was a photographer sent off some photos for a model competition with Storm Models & Highland Spring and I got through to the finals.
Please give us the story of your favorite modeling shoot?
My favourite shoot was shooting at a 7 star Spa Hotel in Tenerife because we got to sunbathe all day and shoot for a couple of hours in the eve 🙂 They flew me and another female model out from London then one male model from New York and another from Paris and we all got on so well and had such a laugh. 
Tell us why you decided to combine your busy career as a commercial model with makeup artistry?
I decided to diversify into doing makeup because I've always had a passion for beauty and wanted to have a skill if I decided to stop modelling later on.
Is there an MUA job that stands out for you or a particular style of shoot you prefer to work on?
To be honest it's the people that make the shoots. So if I'm working with a team and we're all clicking and having fun and creating an amazing result that's the best feeling. I did love working with soul Diva Jocelyn Brown for several gigs and again at the Brit Awards as she's got such a great sense of humour and always had me in stitches.
If you were marooned on a desert island which would be the one essential beauty item you would struggle without?
My desert island must have would be SPF 50 to protect my skin and keep it looking young in the heat.
Which do you prefer modelling or MUA work?
I love both modelling and being a makeup artist and it would be hard to pick one. The best part about my career is the variety which I love as I never get bored!
Which side of the industry do you book more work in?
It's swings and roundabouts really. Some weeks I'll be doing more modelling work and others more makeup bookings. It's kind of half and half.
In recent years you started your own fashion blog, how's it going?
My blog is really building. I love fashion so much and sharing all my outfits and fashion inspiration with my followers. I started it because people were always asking where I bought such and such and now I can share with a wider audience.
Who are your celebrity fashion inspirations?
Style wise I love how actress Kate Bosworth dresses. She always looks super cool but never "try-hard". Model Irina Shayk always looks banging whether in a bodycon dress or jeans and sweater, just effortlessly beautiful and super sexy.
If you had to choose just one high street fashion brand to shop from for the rest of your life which would it be and why?
I think it would have to be Zara as they always have pieces that look very designer but without the price tag and their shoe designer creates some gorgeous heels and over the knee boots.
Finally please offer some words of wisdom to any aspiring models or creatives looking to embark on a career in the industry?
My advice to aspiring models and makeup artists is to be thick skinned and never take anything personally as there's a lot of rejection in the industry. Also be friendly and upbeat – no one likes a moaner! If you get a good reputation and are easy to work with you'll get booked again.
For Jo's fashion blog visit www.instagram.com/diaryofalondonstyleblogger