Yep there is no easy way but we got you reading right? Sadly there isn't a quick fix to get you into the industry and like every career, even the seemingly glamorous and carefree world of modelling requires hard work (yawn), grit and determination.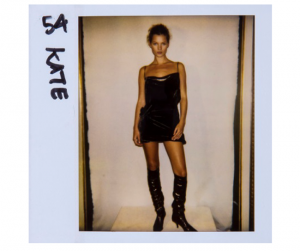 Rare are the days of teenaged girls pottering around the Clothes Show Live only to be swept up by a savvy model scout and turned into the next Kate Moss. When this does happen it's more within the editorial side and although we at Morello have been known to pass a card to the odd unpolished gem on the tube, for the most part this is NOT how commercial modelling works.
This is a world in which you are asked to look like real people but still have that aspirational edge, be able to smile with the eyes but not come off like a caffeine-addicted weirdo and manage a diary that says you're available enough to be taken seriously but not so much that you appear desperate for work. A cinch right?
Nope! It's a contradictory, pain in the ass of an industry so here is a helpful little checklist of priorities when embarking on such a challenge and remember this is 'commercial' modelling, the stuff of advertising dreams where you are never too old for a P&O cruise campaign, or too unattractive to play a mechanic in an Audi commercial so watch this space if you are serious and when you reach the end of the list contact us for representation as we just love a newbie.
Are you deluded? Maybe – so check with a good mate or family member for an honest opinion as no-one wants to be 'that' guy on X-Factor wasting his time and having his dreams crushed.
Take a quick snap Start off by taking a few self portraits (called Polaroids) against a white background with natural light and send one headshot, and a full length shot from the front, profile and back. Keep it natural with little hair styling and minimal, if any makeup, wear lingerie or swimwear and do not retouch the shots.
Look up some agencies Unlike fashion modelling, the commercial model has less pressure to stay with one 'mother' agency and being self employed will want to work as much as possible so email your shots to a few bookers or agency talent scouts and ask their advice on whether to take the next step of booking a paid test shoot.
Building your book Your 'book' or 'portfolio' is a collection of images that shows you off in the best possible way and eventually it will consist of both working images and test shots highlighting your strength and diversity as a commercial model however you have to start somewhere so a good test is essential.
Testing First up you have to spend money to make money and make no mistake a good agent will soon spot the difference between the flakey 'fancy-themselves-as-a-part-time-model' dude and the serious contenders. You may strike it lucky and find a willing photography graduate from London College of Fashion who will throw you a solid and shoot you for free but the best way to get a good test is to contact an experienced photographer used to testing models so that you get those obligatory smiley, fresh shots to really sell you.
Shoot prep As well as the right photographer you must ensure you have a great MUA on hand to help make you shine, because no matter how good your smokey eyes are on a Saturday night no-one can do it like a pro. Check with them what to take if anything for your hair and face but its down to you alone to sort your wardrobe. Avoid black, stripes, spots and logos and anything too on trend. Think timeless classics that won't date or look wrong to a client or agency overseas. Make sure you pick block colours but ones that suit your colourings to avoid looking washed out.
Share your portfolio Now is the time to be bold, you've done the research, given up time, spent the money and got the goods. Your book is ready to be shared so contact as many reputable agencies as possible and remember that your look may not be right for one agent but it's okay to keep trying others.
Career modelling To stay in the game a good tip is a big old cliche but so true, always remember that people buy people and although agencies take on models with the right look, bookers will remember to push the proactive, professional and friendly models over the high maintenance, hard to get hold of ones so if you want to stay busy in this competitive business keep testing, be the best communicator you can be (pick up emails and calls and make yourself as available as possible) and do a good job on set and you will be a hit with agents, clients and your accountant #showmethemoney.
For a great place to test go to http://www.themodelcamp.co.uk